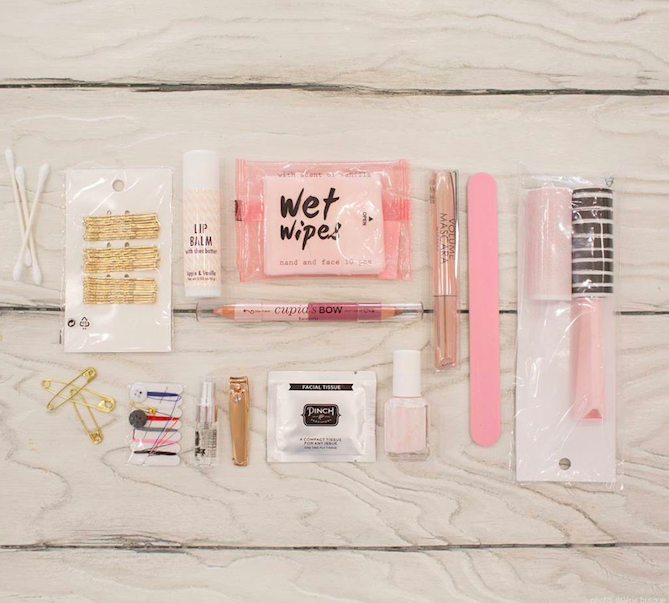 The Indispensable Emergency Kit
An emergency kit is an absolute must on your wedding day, because even if everything has been planned down to the last detail, the unexpected can—and often does—happen! To save you the headache, we've drawn up a downloadable emergency kit checklist so you're ready to fix any problem that may come up!
The essentials in a few examples:
First aid
Speaking of headaches… You can get one even on your wedding day! Make sure you have a small first aid kit on hand that includes pain killers, antacids and other over-the-counter lifesavers.
Got a blister from your new shoes? Don't forget to add a few transparent adhesive bandages to your kit!
Beauty
Uh oh, your nylon stocking has a run? Just apply a little clear fingernail polish to keep the run from, well, running! Did the wind mess up your hair during the outdoor photo shoot? Have a small bottle of hairspray on hand for those quick touch-ups throughout the day. If it's very hot and sweat is beading on your forehead, a face-blotting sheet will instantly refresh your skin and remove any shine.
Drinks
It is important to stay hydrated throughout your special day. Don't be caught off guard: carry a small bottle of water with a straw so you can drink without smearing your lipstick.
Other
Since you can expect the unexpected to happen, it's key to have all the basic essentials on hand! For instance, instant stain remover or a wet wipe will remove an accidental lipstick smudge from the bridal veil, and baby powder will loosen jammed zippers.
For a detailed list of items to have on your wedding day, download our Indispensable Emergency Kit checklist.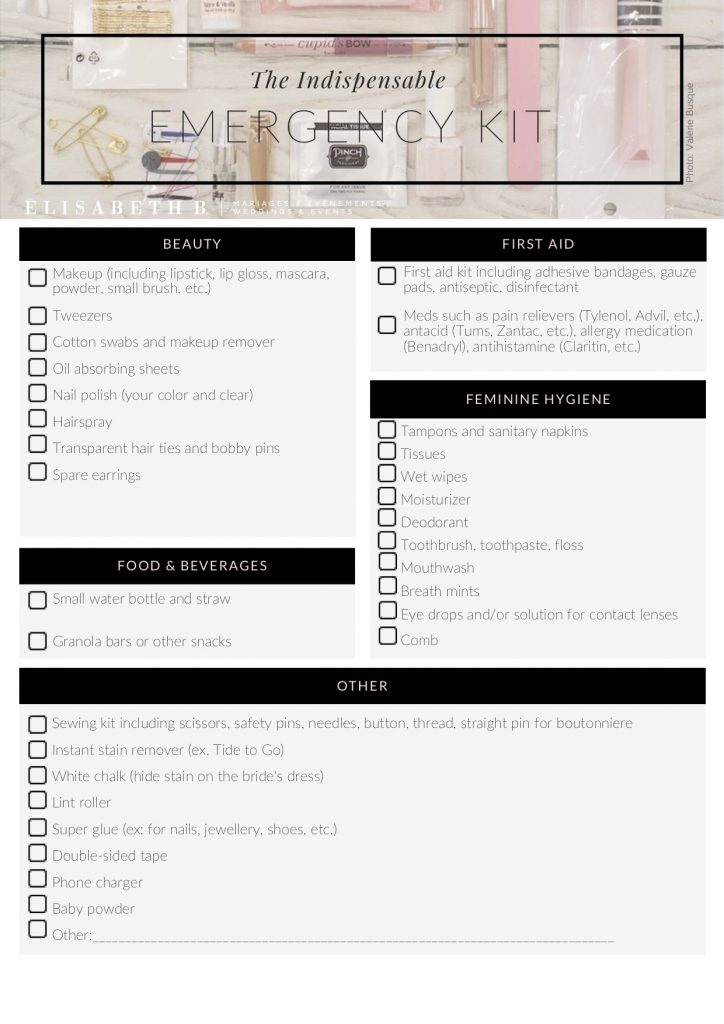 TIPS & TRICKS
Of course, the Emergency Kit is indispensable, but you have to have it nearby when something happens! So don't leave it at home or in the hotel room. Put one of your bridesmaids in charge of carrying the Kit from place to place. That way, it'll always be handy throughout the day.
The Emergency Kit is also a great gift idea for your bridesmaids on your wedding day.
Don't forget to adapt your Kit to the location and the type of wedding. For example, if you're doing an outdoor wedding, add sunscreen and bug spray.
If you want to have a kit but don't feel like going to the trouble of assembling it, no problem! There are prepared kits you can order online, including on Pinch (various formats and formulas available).
Have fun preparing for the unexpected!
– Élisabeth B.